Who is Hollandsch Meisje?
My name is Patries and online I go by Hollandsch Meisje. Which is Dutch for Girl from Holland. I chose that handle and that specific spelling to represent that, although I enjoy the aesthetics of the past, the girl is very much modern! 
To clarify: Spelling rules for Dutch language changed in 1934.  Hollandsch is old fashioned spelling vs modern spelling of meisje. It also ties in nicely with my love of all things Dutch and kitschy! 
Vintage hairstyling is another passion and a lot of my posts and silly video's usually are dedicated to this in some way. I enjoy recreating the hairdo's and looks of the 1930s to 1960s. I use this webpage to share my photo's, experiences and thoughts about vintage styling and fashion. 
I'm also working on my own social media training business where I'd like to teach small business owners how to make content for several platforms. Courses will be available through this website as well.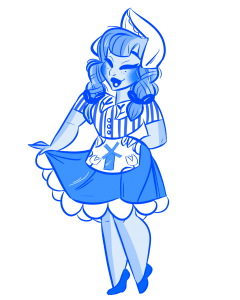 My website is under construction. In the meantime you can find me on several social media platforms through the links on the homepage. Thank you for your patience!